The long-awaited third season will play on NHK's ETV and One-Seg 2 Networks.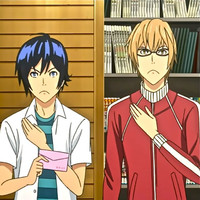 The popular anime about making manga, Bakuman, will be back on the air for its third season of anime starting at 5:00 PM on Saturday, October 6th. The series follows the exploits of a manga-writer-and-artist team as they try to make it to the top of the bestselling weekly manga magazine in Japan, "Shonen Jack!"

The anime, based on the manga by the Death Note team of writer and artist, Tsugumi Ohba and Takeshi Obata, was a popular addition to NHK's anime lineup. And even when they ended Season 2, there seemed little doubt that there would be another Bakuman series in the future, but the question was when. Now that question is answered.
Saturday evening is a popular night for anime, and 5:00 PM is considered a prime spot. So NHK is showing a lot of confidence that the series can continue to pick up the ratings that the first and second series managed.
Looking forward to some new Bakuman manga-making adventures?