The award-winning 4-panel romantic comedy will now be an anime.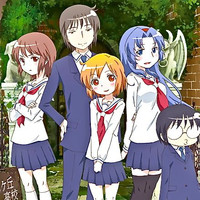 Kotoura-san, a high-school romantic fantasy 4-panel web manga by artist Enokids from the web site Manga Goccha (Manga God a Chance) won the web-site's highest honor of "Manga of the Year" in 2009. Even though it's a free web comic, the latest printed compilation, Vol. 3, has reportedly sold more than 100,000 copies (phenomenal for a web comic). Now it has been greenlit for a TV anime!

The story revolves around Haruka Kotoura who is cursed with the ability to read minds. Because of this unwanted ability, she has become withdrawn, but now transferred to a new town and high school, she finds she is the center of interest of the understanding Manabe-kun and the president of the ESP club, Muroto-kun. Will the new experiences bring her out of her shell?
The production company is AIC Classic, and the staff includes many veterans of the YuruYuri and Mitsudome anime including director: Masahiko Oota, script writer: Takashi Aoshima, and Takaharu Okuma as character designer and animation director.

Details such as debut date, cast, broadcast network, time slot, etc. have not been announced yet. Stay tuned for more info as it becomes available.
Are you ready for Kotoura-san to read minds?