Meet the family of the Dark Flame Master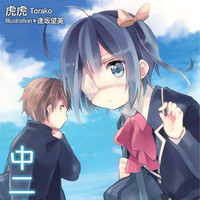 Having introduced most of the main characters, Kyoto Animation (Haruhi, K-On!!, and My Ordinary Life) is now filling in the supporting cast for their upcoming adolescent mania anime Chū-2 Byō de mo Koi ga Shitai! (She's Youthfully Delusional, But I Want to Love Her!").
From @ultimatemegax's translation/description:
A gathering in reality as well as delusion.

As he entered high school, Yuuta Togashi had sealed away his deluded flames of darkness and the Black Flame Dragon he had stored in his right arm. But is he at the end of his rope upon meeting the infected chuunibyou patient Rikka Takanashi, the self-created user of the "Devilish Truth Stare", and becoming enchanted by her?! She's guided him back to that world of adventure he created in his head! Feeling lost between the delusional chuunibyou soul he left behind and the reality of high school life, his story of anguish begins...
Newly introduced characters include:
Yuuta's Mom: (勇太の母)
The person who gave birth to the Dark Flame Master.
Yumeha Togashi: (富樫夢葉)
The second sibling who shares the blood of the Dark Flame Master.
Makoto Isshiki: (一色誠)
The Dark Flame Master's brethren. This demonic being constantly plans every day to become the best partner one could want in their lives. He continues to add information to his database, the Index Revelation.
The design for this character was radically changed from the light novel version
Maaya Uchida (Mari from YuruYuri, Izumi Yunomoto from Moretsu Pirates) voices lead Rikka Takanashi.
Uchida's principal castmates include Chinatsu Akasaki (Kill Me Baby's Yasuna Oribe) as Shinka Nibutani, Azumi Asakura ([email protected]'s Yukiho Hagiwara) as Kumin Tsuyuri and Sumire Uesaka (Listen to Me Girls' Sora) as Sanae Dekomori.
The original light novel received an honorable mention at the first Kyoto Animation Awards. The October anime series will be directed by Tatsuya Ishihara (AIR, kanon, CLANNAD)(K-on!, Sola, Steins;Gate). Kazumi Ikeda (openings of AIR, Full Metal Panic? Fumoffu, Hyouka) is on board for character design and animation direction.
via @ultimatemegax

-------
Scott Green is editor and reporter for anime and manga at geek entertainment site Ain't It Cool News. Follow him on Twitter at @aicnanime.