The two OAVs on DVD (OADs) will tell one complete story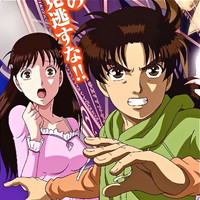 The manga series, Kindaichi Shonen no Jikenbo (Kindaichi Case Files), a mystery series loosely based on Seishi Yokomizu's murder mystery novel series from the 1940s-1970s, will soon be 20 years old. The manga by Youzaburou Kanenari and Fumiya Satoh (later Seimaru Amagi and Fumiya Satoh) started its run in 1992 in Kodansha's Shonen Magazine. Now they are releasing a brand-new anime to go with the 20th anniversary celebrations.
They are running a special 20th anniversary commemorative manga series in Kodansha's flagship manga magazine, Weekly Shonen Magazine that started July 11th. These new OADS (OAVs on DVD) will go in specially packaged editions of the compilation volumes of the manga. The first anime OAD will go on sale on December 17, 2012 packaged with the third volume of manga as a special edition, and the second will be packaged with the fourth manga volume on March 15, 2013. Both special editions will sell for 3280 yen (about $42 at recent rates).
The anime feature the same voice actors who have held their roles since the TV anime debuted in 1997. Taiki Matsuno as Kindaichi, Akiko Nakagawa as Miyuki Nanase, Juurouta Kosugi as Isamu Kenmochi, and Kenichi Ono as Youichi Takatoo (Mr. Ono was added to the cast in 1998). The director, Toshiaki Komura, and character designer Akihiro Asanuma are also long-time Kindaichi veterans. Toei animation will handle the animation production.

TokyoPop published 17 volumes of Kindaichi Case Files in the U.S.

Interested in a little Kindaichi murder mystery?