Located in Otaroad, the mecca of Otaku in Osaka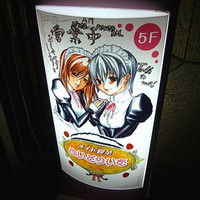 We often see under-aged maid girls who serve their masters in Japanese anime and manga. But in reality, it's absolutely and unequivocally illegal even in Japan. On September 1, Naniwa station of Osaka prefectural police arrested a 61-year-old man who was the owner of "Maidream", a maid cafe in Naniwa Ward, Osaka, for employing three 14-year-old junior high school girls. The suspect employed the girls who were all 14-year-old at the time to entertain "the masters" as maids at his maid cafe "Maidream" on May 26, even though he knew they were under 15 (the Labor Standards Act in Japan prohibits to employ a child under 15 years of age). The girls who attended the same junior high school worked at the cafe for the one day only. But a teacher who was in charge of student guidance at their school immediately found out the fact and reported to the local police station three days later. The suspect has admitted his guilt.
"Maidream" is located in Otaroad, a street in Nipponbashi shopping district of Naniwa Ward, Osaka.
As the name shows, it is often called Osaka's equivalent of Akihabara. There are more than fifty
maid-themed cafes and restaurants in the area. "Maidream" has been infamous for its over-charged
service and foods, such as a 4,000 yen (about US$51.00) omelet rice or a 5,000 yen (US$63.83) cake set.
The sign of "Maidream"
Source: MSN Sankei, Yomiuri, Sanspo