More than 500 people enjoyed the cross-dressing performances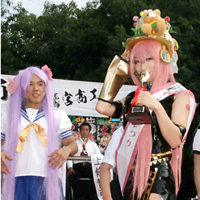 The Washimiya area in Saitama prefecture has been famous as the hometown of the Lucky Star characters. In addition to the Lucky Star-decorated mikoshi (portable shrine), another popular event at Hajisai, the autumn festival in Washimiya, was a yearly cross-dressing cosplay contest called "Washinomiya Miss Con", which was started last year.
This year's Hajisai was held on September 1-2. Eight male finalists who cosplayed as female anime/manga/game characters showed their performances to the judges on the stage on the second day. Each of them drew enthusiastic applause from more than 500 audience. The winner of the 2nd contest was "Yuo" from Chiba prefecture, who cosplayed as Vocaloid character Megurine Luka. You can check his performance in the YouTube video below posted by a fan named takazawamegumu. Do you think he/she was the most beautiful cosplayer of the day?
Other finalists
Prize-giving ceremony
Source: Weekly Vocaloid Guide
pics © Mantan Web