Toei helps creating a new French magical girl show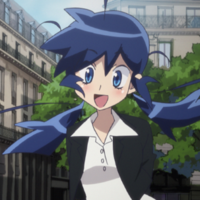 Toei Animation (Dragon Ball, One Piece, PreCure) has been working with ZAGToon, a division of the French animation production company Univergroup, for a new TV anime series called Lady Bug or Miraculous Ladybug. The 26 episodes magical girl series is scheduled to be broadcasted in France and Belgium. The series is also co-produced with Method Animation (The Little Prince). The company is responsible for the series' CG elements.
ZAGToon has posted a 3 minutes 18 seconds promotional video onto YouTube. There is no information about the Toei's Japanese staff. You can only guess who they are at this moment. Lady Bug also has a stereoscopic 3D full-length movie in the works, but Toei has involved in only the 2D TV series project.
The story premise (from the official website):
"Marinette Cheng, a shy high-school student, has inherited some magical ladybug-shaped earrings.
The ornaments grant the power of Luck to whoever wears them. Yet there is one condition : they have
to be worn in an altruistic manner, or else, beware of the consequences ! Whenever the situation needs it,
Marinette turns into LADYBUG, the guardian angel."
Source: Nuruota ga Kiru
© Zagtoon - Method - Toei Animation