Christian Svensson gives his opinion on the Blue Bomber's fall from grace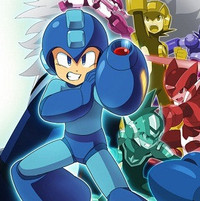 Mega Man has been a fixture of gaming since I was a kid--I've followed the franchise from its roots on the NES all the way up through its portable incarnations and the cancellation of its two most recent titles. While Mega Man Universe looked like crap and won't be missed on my end, the loss of Mega Man Legends 3 has been a major strike against Capcom in fans' eyes.
Capcom Senior VP Christian Svensson recently took on a question about rebooting the Mega Man franchise in his "Ask Capcom" blog:
"Thanks for the suggestion. I (and probably I alone so please don't ascribe said belief to "Capcom") think one of the problems MM has had as a brand is that we've had too many competing splinter sub-brands within it. I'm not sure starting yet another is the way to get the franchise as a whole back on track more than creating greater brand confusion but we'll take it under advisement.
"Thanks for the suggestion and your passion."
I dunno, I liked the different faces of Mega Man--from the plucky original to the sleeker, meaner future version to the "gotta catch 'em all" madness of the Battle Network games, I always loved how each generation of Mega Man brought something new to the table.
And if you don't like the Legends games, you're INSANE. It's incredible how far ahead of their time they were.
Earlier this year, Svensson mentioned how "top men" were talking about the future of the Mega Man franchise and working out its next ten years, so the series isn't dead--just on vacation. And, y'know... showing up on your phone.
Something to remember is that no matter what happens in the future, we still have a great series to look back on--the franchise celebrates its 25th anniversary this year. What are your favorite Mega Man titles? Do you have any favorite moments from the series?
via Siliconera