El grupo Nogizaka46 será el responsable de interpretar el ending de la serie.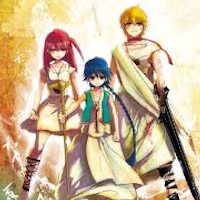 El número 41 de la revista Weekly Shonen Sunday de Shogakukan ha anunciado que Nogizaka46, el grupo rival "oficial" de AKB48, se encargará de poner ending a la adaptación animada de Magi - The Labyrinth of Magic, de Shinobu Ohtaka. El opening será "V.I.P." de la banda de rock visual-kei SID, anunciado hace unos días.
El productor de AKB48, Yasushi Akimoto, fue el responsable el pasado año de la creación de Nogizaka46. El nombre del grupo procede del edificio Nogizaka que posee Sony Music Entertainment y donde se realizaron las audiciones finales para el conjunto. El "46" del nombre incita a la rivalidad con AKB48 y de hecho su lema es: "Aun teniendo menos miembros que AKB48, no perderemos".
La revista también incluye una nueva imagen del anime así como que el próximo número anunciara otra adaptación del manga de Ohtaka. ¿Un videojuego? También incluirá un amplio artículo mostrando los diseños de los personajes con comentarios del staff sobre cada uno de ellos.
El manga reimagina la clásica historia de "Las Mil y una Noches" y se lleva publicando desde el año 2009. Shogakukan lanzará el tomo recopilatorio número 14 de la obra este mismo mes.
Koji Masunari (Read or Die, Welcome to the Space Show) se encargará de la dirección bajo el estudio A-1 Pictures. Toshifumi Akai (Kokoro Connect, Sora no Woto) se encarga de los diseños de personajes y Hiroyuki Yoshino (Accel World, Guilty Crown) de los guiones. La banda sonora tendrá el sello de Shiro Sagisu (Evangelion, Bleach).
El anime se estrenará en las pantallas japonesas el día 7 de octubre y se podrá ver todos los domingos a las 17:00 en las cadenas MBS, TBS y su red de afiliadas.
Fuente: AnimeNewsNetwork