Plus new Momoiro Clover Z performances of end theme and OVA news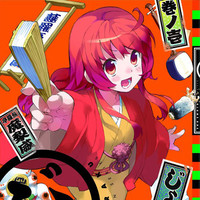 This past weekend, visitors with otaku proclivities travelling to tourist spots in Akihabara and Asakusa were able to partake in rickshaw rides thematically modeled after the women of Joshiraku - the manga turned anime with Sayonara Zetsubou-Sensei's Kouji Kumeta and Toradora! illustrator Yasu's look at the behind scends banter of a group of traditional performers.
Fare for the ride was 3,000 yen ($38).
Speaking of Joshiraku, Momoiro Clover Z (under the name Momokuro-tei Ichimon) have recently done more performances of end theme "Nippon Egao Hyakkei (Famous Views on Japan's Smiles)" to promote the release of the single.
Meanwhile, a new OVA episode will be shipping with the February release of the fifth volume of the manga.