Sayuri Ishikawa celebrates her 40th anniversary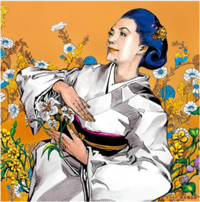 Manga artist Hirohiko Araki (JoJo's Bizarre Adventure) has drawn the cover of "X-Cross," the first J-Pop song album by 54-year-old Japanese Enka singer Sayuri Ishikawa. This year marks the 40th anniversary of her Enka singer career. The album contains eight J-Pop songs including five originals. One of the original songs "Afureru Namida" (Rivers of tears) is written by Tamio Okuda, who also wrote her J-Pop number "Baby Baby" in 2010. The album is scheduled to be released in Japan on September 19.
Enka/Japanese Ballad is still one of the most popular music genre in Japan. The main theme of the genre are often sorrows of love, melancholy, and nostalgia. As you may know, Nana Mizuki, who is considered as the most successful anime singer today, originally wanted to be a professional Enka singer.
"X-Cross" cover
Sayuri Ishikawa
Source: SanSpo