Web app uses Google Maps to create mini-movie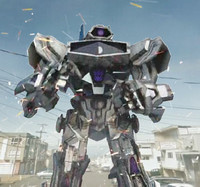 Activison and High Moon Studios have come up with a flashy way to promote the new Transformers: Fall of Cybertron game. Just go to http://www.transformersonyourstreet.com, enter your address in the form there, and with a little help from Google Maps, soon you will behold an original video of giant transforming robots from outer space messing up your neighborhood in the best Michael Bay tradition!
Warning: it takes a while to load, and destroying your own block may not be covered in most insurance policies, but oh the fun you'll have sharing the clips on facebook and Twitter. I know I got a kick watching Grimlock and Shockwave throw down in front of the grimy liquor store and Chinese restaurant across the street from me...now I figure I'll spend most of the day creating havoc in other locations, beginning with a randomly selected Olive Garden, a Hot Topic, and a Toys "R" Us parking lot!
-------
Patrick Macias is editor in chief of Crunchyroll News. He also runs the Japanese Fashion Inferno tumblr blog. Follow him on twitter at @Patrick_Macias.