She's also the co-host of Otaku-Verse Zero, don't cha know?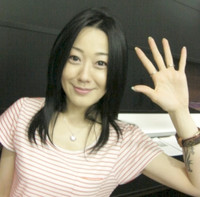 STOP EVERYTHING! Book your flights! Yuu Asakawa has been announced as a guest at the New York Comic Con, October 11-14 at the Javits Center in NYC!
Why am I so ding-dong excited? Well, for starters, Yuu is a veteran of the anime voice game, featured in over 70 titles so far, including recent shows seen on here on the 'ol Crunchyroll including Brave 10 and Majikoi - Oh! Samurai Girls(although my favorite work of hers will always be Getter Robo vs Shin Getter Robo). But that's only the beginning! Yuu also provided the voice of Vocaloid Luka Megurine, which has led to stimulating confessions like the one below...
Also, although I risk blistering accusations of A CONFLICT OF INTEREST (ha!) Yuu is super special to me because she is also the co-host of my Tokyo-based web show OTAKU-VERSE ZERO, which can also be seen here on Crunchyroll.
Together, Yuu and I have truly been thrown into some bizzare situations including partying with Kyary Pamyu Pamyu, cosplayed as Gundam characters, had high tea at a butler cafe, and learned a lot about how to use the bathroom at Sega headquarters. Heck, I even visted Yuu on the job in an anime voice acting studio! Although I have to say, the most viewed episode of OVZ was that one where Yuu dressed up as a maid for the first time....hmm, I wonder why???
Anyway, this will be Yuu's first trip to NYCC, so this a great chance for you all to discover the woman behind the legend, buy her a drink (or thirty), and pester her with questions about tonkatsu and Getter Robo vs Shin Getter Robo!
As for Otaku-Verse Zero…the show is currenly on hiatus until I get my butt back to Japan, but we're looking at shooting more episodes later this year. In the meantime, here's the latest one featuring Yuu in her natural element: a bar where the booze won't stop flowin'.
In the meantime, be sure to follow Yuu Asakawa on Twitter. Trust me, she'll be the biggest thing to take Manhattan since....the Muppets?
-------
Patrick Macias is editor in chief of Crunchyroll News. He also runs the Japanese Fashion Inferno tumblr blog. Follow him on twitter at @Patrick_Macias.