Marvel will be launching Dennis Hopeless and Kev Walker's monthly comic this December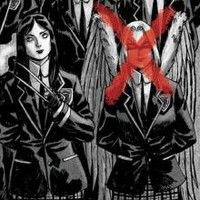 Think seminal Japanese teen death match Battle Royale with teenage Marvel superheroes that you probably haven't heard of unless you've kept current with the comics, or Hunger Games with super powers, or an American comics style Deadman Wonderland. This December, Marvel will be launching Dennis Hopeless and Kev Walker's monthly comic Avengers Arena.
The series takes 16 existing and original teenage Marvel characters and puts them into kill-or-be-killed peril via a reality-show-like scenario in Murderworld run by the classic Marvel villain Arcade.
Cast includes Avengers Academy's Hazmat, Mettle and Reptil - of 4chan fame, female Wolverine clone and Marvel vs. Capcom fighter X-23, a boy and his Sentinel, Cammi - the warped moe girl who ran around with Marvel's cosmic characters in Annihilation, '90s artifact Darkhawk, and Runaways' Nico and Chase.
"These kids are all there is," said Kev Walker in Marvel's Q&A. "No spectators, no innocent bystanders, no civilians; an entire world of 17 people. This is up close and personal, more intimate than any other book out there, because it's just us and them, and I have to fill each of them with enough soul so that the audience feels for them, no matter how brief their appearance."
Series editor William Rosemann says, "Throughout history, societies have sent their young adults against one another in competition, whether that's in war, sports or 'American Idol,'" Rosemann said. "Likewise, art has examined this phenomenon of the older generation sacrificing the younger generation -- and also of young warring gangs wanting to prove who's #1 -- in everything from the myth of Theseus vs. the Minotaur to 'Lord of the Flies' to 'Battle Royale' to 'Starship Troopers' to 'Survivor' to 'Hunger Games.' Teen vs. teen competition is as old as storytelling -- but now it's time to give it the Marvel twist."
via Comic Book Resources and Marvel.com
------
Scott Green is editor and reporter for anime and manga at geek entertainment site Ain't It Cool News. Follow him on Twitter at @aicnanime.