Featuring the voice of Yui Horie as the protagonist boy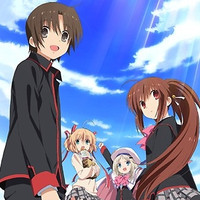 The first TV CM for a 2012 fall TV anime Little Busters! has been posted in the web. The 15 seconds CM features the narration by female voice actress Yui Horie as the protagonist boy Riki Naoe for the first time. The anime is based on a popular visual novel developed by Key (Kanon, Air, Clannad). In small parts of the game, Riki Naoe was originally voiced by Tomoe Tamiyasu who also voiced the heroine Rin Natsume. The TV anime will premiere on October 6 in Japan. How's Hocchan's voice as a boy?
TV CM 1
1st promotional video
© VisualArt's/Key/Team Little Busters!