On sale for a limited time starting Sept. 28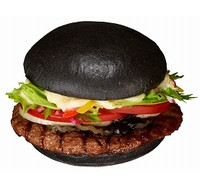 When the evil executives at Burger King Japan sat around coming up with a creative way to celebrate their 5th year of operation, who could have guessed that the results would be the Kuro Burger or, (as a team of translators just decoded it) THE BLACK BURGER!?!?
The, ahem, unique color scheme comes from mixing bamboo charcoal into the dough used to make the bun. And for bonus points, the curious condiment is, as Rocketnews24 puts it, "Black Flavored Ketchup, which is traditional ketchup blended with garlic and squid ink and specially seasoned for an extra kick."
The Black Burger will be available for a limited time at participating Burger Kings in Japan starting next Friday. We hope that the prophesy will come true and that assorted hungry black-clad Gothic Lolitas, emo kids, and gimmick-seekers of all sorts will line up soon for this one in a lifetime chance to eat…THE BLACK BURGER!
-------
Patrick Macias is editor in chief of Crunchyroll News. He also runs the Japanese Fashion Inferno tumblr blog. Follow him on twitter at @Patrick_Macias.