Eri Kitamura and Hisako Kanemoto also added to sprawling cast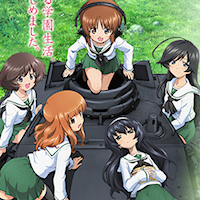 Heavy weapony moe Girls und Panzer has a huge cast of tank driving scholastic teams. And, in that sprawl of big name voice talent and unknowns, Bandai Visual have found a place for controversial star Aya Hirano (Haruhi Suzumiya herself).
Monkfish team
Miho - Mai Fuchigami
Saori - Ai Kayano (Meiko Hanma from AnoHana, Hibino Shiba from Kamisama Dolls)
Hana - Mami Ozaki
Yukari - Ikumi Nakagami
Mako - Yuka Iguchi (Nisemonogatari's Tsukihi Araragi, Certain Magical Index's Index).
Turtle team (Team Student Council)
Kadotani - Misato Fukuen (Strike Witches' Yoshika Miyafuji)
Koyama - Mikako Takahashi (Gintama's Sadaharu, Hayate the Combat Buter's Ayumu Nishizawa)
Kawashima - Kana Ueda (Fate/zero's Rin Tohsaka)
Duck team (volleyball team)
Isobe - Mika Kikuchi (xxxHoLiC/Tsubasa's Mokona)
Kondo - Maya Yoshioka
Kawanishi - Mari Kirimura
Sasaki - Sakura Nakamura
Hippo Team
Kaesaru - Eri Sendai (PreCure's Milk)
Eruvin - Satomi Moriya (Cencoroll's Kei)
Saemonza - Hiroka Inoue
Oryou - Medaka Box's Harigane Onigase
Rabbit Team (Freshmen)
Sawa - Hitomi Takeuchi
Sango - Nozomi Nakazato
Maruyama - not cast
Sakaguchi - Konomi Tada

Utsugi - Yuri Yamaoka (Yumeiro Pâtissière's Chocolat)

Oono - Chuna
Principal
Chono - Hekiru Shiina (Might Knight Rayearth's Hikaru,Yokahama Shopping Trip's Alpha)
Guroriana
Darjeeling - Eri Kitamura (Bakemonogatari' Karen Araragi)
Assam - not cast
Orange Pekoe - Kaori Ishihara
Saunders High School
Kei - Ayako Kawasumi (Fate/Extra's Saber, Geshinen's Kanako Ohno, Nodame Cantabile's Nodame )
Naomi - Mariya Ise (Panty and Stocking's Stocking)
Asira - Aya Hirono

Anzio High School
Anchovy - casting not revealed
Pravda High School
Kachusya - Hisako Kanemoto (Squid Girl)
Nonna - Sumire Uesaka (Listen to Me Girls' Sora Takanashi)
Kuromori Highschool
Maho - Rie Tanaka (Gundam SEED's Lacus Clyne)
Erika - Hitomi Nabatame (Squid Girl's Cindy Campbell)
Judges B-ko and C-ko (casting not revealed)
See the character's full body designs here.
Staff on the "military series that'll tickle your heart" include:
Director: Tsutomu Mizushima (Squid Girl, Genshiken, Blood-C)
Writer: Reiko Yoshida (K-On!, Polar Bear's Café)
Character Design: Humikane Shimada (Strike Witches)
Animation: Isao Sugimoto (Squid Girl)
Original Character concept: Takeshi Nogami (Strike Witches doujinshi)
The series premieres October 8th.