New "Kintama Arc" episodes begin Oct/4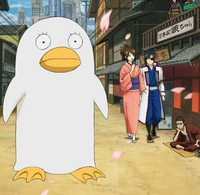 Fans of Gintama have had to do without any new comedy from Gintoki and co. ever since March earlier this year, when the anime series – based on the manga by Hideaki Sorachi – ended its run on television. But now…Gintama is BACK and Crunchyroll has got it!
Starting Thursday, October 4th at 3am Pacific Time, new episodes of Gintama will be made available to premium members. Free members will be able to watch one week after the initial broadcast on Crunchyroll. TV Tokyo is referring to the new batch as the show's "Kintama Arc," which is a rude joke in Japanese, so expect a wild ride in the days ahead...
We're sure many of you are already familiar with the unique historical comedy offered in Gintama (heck, you can watch 252 previous episodes now in the CR library), but just in case, here's the official synopsis:
"The values of the city of Edo suddenly changed when the aliens, called Amanto, invaded. In a world where anything goes, from aliens to motorbikes and even electric trains, a man known as the last samurai clings to his unchanging spirit. His name is Gintoki Sakata, a.k.a. Odd Jobs Gin. He's reckless and irresponsible, but somehow he does what needs to be done in his own subtle way. The lifestyles of Gin and his companions will make you laugh, make you cry, and warm your heart!"
Gintama will be available to Crunchyroll's audience in the following territories: North America, South America, Africa, Europe (except Andorra, Italy, Portugal, San Marino, Spain, Vatican City), and Middle East.
-------
Patrick Macias is editor in chief of Crunchyroll News. He also runs the Japanese Fashion Inferno tumblr blog. Follow him on twitter at @Patrick_Macias.