Starts Tuesday, October 2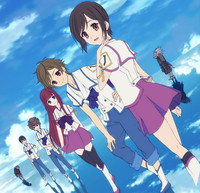 What's this? Another Fall 2012 streaming anime announcement from Crunchyroll? Yes! Crunchy has gone and nabbed the highly anticipated series Shin Sekai Yori (known in English as "From the New World"), based on the bestselling science fiction novel of the same name...
Here's an official synopsis for you:
Based on the novel that won Yusuke Kishi a Nihon SF Taisho Award, this highly acclaimed story released in 2008 is so broad, unique, and imaginative that many said a film version would be impossible. Four years later, TV Asahi teams up with director Masashi Ishihama and A-1 Pictures to bring the animated version to life at last.
Five children living in the future are the protagonists. The story begins when they are 12 years old and starting their lives at an advanced school to learn the 'cursed power' of telekinesis. They also learn of humanity's bloody history and set out upon epic adventures that place their very lives on the line. The age of 14 brings them still greater trials and heart-wrenching events, and finally, in the summer of their 26th year, a tragedy like nothing history has ever seen befalls mankind...
The humans who possess the cursed power, the race of creatures just as significant as humans, known as 'bakenezumi,' and beasts that have evolved in even more bizarre ways - countless forces and speculations come together in this unpredictable three-part story illustrating the lives of the protagonists at ages 12, 14, and 26. Even more profound themes involving the roots of all life can also be found hidden in the story's depths.
Shin Sekai Yori is set to broadcast every Tuesday starting on October 2, at 12:40 pm Pacific Time for premium members. Free members are able to view one week after initial broadcast on Crunchyroll.
The show will be available to Crunchyroll's audience in the following territories: USA, Canada, United Kingdom, Ireland, Australia, New Zealand, South Africa, Denmark, Finland, Iceland, Norway, Sweden, Central & South America.
More information can be found (shortly) on www.crunchyroll.com/shinsekaiyori.
-------
Patrick Macias is editor in chief of Crunchyroll News. He also runs the Japanese Fashion Inferno tumblr blog. Follow him on twitter at @Patrick_Macias.