Begins October 10, at 10:00 a.m. Pacific Time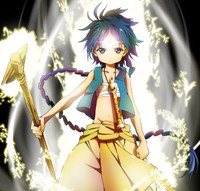 Hark! There's a new addition to Crunchyroll's new slate of anime for Fall 2012!
Magi: the Labyrinth of Magic – a heady mix of action, bishounen, Middle Eastern folklore and mythology based on the manga by Shinobu Ohtaka – will soon be streaming on CR.
If you have a spare genie laying around, you may want to wish for him to whisk you away to a week from today, cause Magi: the Labyrinth of Magic will broadcast every Wednesday starting on October 10, at 10:00 a.m. Pacific Time for both premium and free members!
Here's the story synopsis:
The story follows the travels of a boy named Aladdin around a strange land in which mysterious ruins called Dungeons are said to house priceless treasures. Together with Alibaba, a friend he met during his travels, Aladdin strives to conquer all of the Dungeons and obtain their treasures. Through all the meetings and partings he experiences along the way, Aladdin will also learn of his own fate...
Magi will be available to Crunchyroll's audience in the following territories: United States, Canada, and South Africa.
-------
Patrick Macias is editor in chief of Crunchyroll News. He also runs the Japanese Fashion Inferno tumblr blog. Follow him on twitter at @Patrick_Macias.