Starts October 11, at 11:35 pm Pacific Time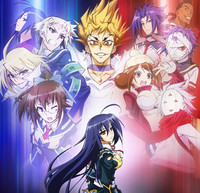 Good news for fans of the shonen anime sensation known as Medaka Box! Crunchyroll will soon be streaming the show's second season, formally called Medaka Box Abnormal.
Medaka Box Abnormal is set to broadcast every Thursday starting on October 11, at 11:35 pm Pacific Time for its premium members. Free members are able to view one week after initial broadcast on Crunchyroll, starting on October 18.
Here's the story synopsis
Kurokami Medaka was victorious in the battle against the disciplinary committee chairman, Unzen Myouri. Now a new battle has begun at Sandbox Academy with the introduction of the Flask Plan. Medaka receives a new commission from the school chairman, Hakama Shiranui, asking her to participate in the project in light of Unzen's removal from the battle front.
Hakama Shiranui's ambition is to artificially manufacture geniuses: 'For the sake of convenience, I call it the Flask Plan.' Once she learns all the details of the Flask Plan, Medaka makes a decision: 'Zenkichi, I'm going to exercise my authority as the Student Council President. I will crush the Flask Plan by the end of the day!'
Medaka Box Abnormal will be available to Crunchyroll's audience in the following territories: U.S., Canada, Australia, and New Zealand.
-------
Patrick Macias is editor in chief of Crunchyroll News. He also runs the Japanese Fashion Inferno tumblr blog. Follow him on twitter at @Patrick_Macias.