Twisted take on the console wars starts Saturday October 20, at 7:00 a.m. Pacific Time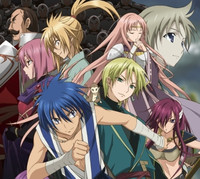 The new announcements at Crunchyroll just keep rolling along, and this time CR has scored a doozy with Aoi Sekai no Chushin De, a twisted anime take on the Nintendo vs. Sega console wars based on the manga by Anastasia Shestakova and illustrated by Crimson.
Aoi Sekai no Chushin De is set to broadcast on Saturday starting on October 20, at 7:00 a.m. Pacific Time for premium members. Free members will be able to view one week after initial Crunchyroll broadcast.
Story (gaming fans, see if any of this sounds familiar...)
The Ninterudo Empire and the Segua Kingdom have been locked in a war for supremacy over the land of Consume for many years. The powerful Ninterudo Empire under the leadership of Marcus, with many excellent killers possessing various special abilities, has gained the upper hand in the struggle, occupying the majority of Consume as well as the surrounding nations. The Segua Kingdom has been left with no plausible option but to fight defensively... until the arrival of Gear drastically turns the tides.
Aoi Sekai no Chushin De will be available to worldwide audiences except for Japan.
-------
Patrick Macias is editor in chief of Crunchyroll News. He also runs the Japanese Fashion Inferno tumblr blog. Follow him on twitter at @Patrick_Macias.