Plans for "Pacific Rim" to go from movie to comic, and "Enormous" to go from comic to movie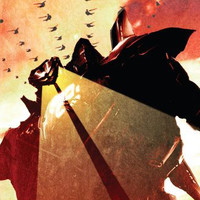 If you want to be ahead of the cultural curve, now's a good time to start catching up on the Godzilla movies and the rest of the kaiju back catalog because Hollywood is gearing up to go kaiju crazy. There's the Gareth Edwards Godzilla remake. There's Guillermo del Toro's (Hellboy, Pan's Labyrinth) mecha versus kaiju blockbuster Pacific Rim. And more are under consideration.
A new propaganda style Pacific Rim poster for this weekend's New York Comic Con has been revealed....
The previous poster debuted at this summer's San Diego Comic Con
The movie's official synopsis:
When legions of monstrous creatures, known as Kaiju, started rising from the sea, a war began that would take millions of lives and consume humanity's resources for years on end. To combat the giant Kaiju, a special type of weapon was devised: massive robots, called Jaegers, which are controlled simultaneously by two pilots whose minds are locked in a neural bridge. But even the Jaegers are proving nearly defenseless in the face of the relentless Kaiju. On the verge of defeat, the forces defending mankind have no choice but to turn to two unlikely heroes – a washed up former pilot (Charlie Hunnam) and an untested trainee (Rinko Kikuchi) – who are teamed to drive a legendary but seemingly obsolete Jaeger from the past. Together, they stand as mankind's last hope against the mounting apocalypse.
LA Time's Hero Complex blog recently spoke to GDT about the project, or more specifically, a comic adaptation coming from Legendary Comics prior to the film's July 12, 2013 release. Movie screenwriter Travis Beacham (Clash of the Titans) is attached to the comic as well. While Del Toro said he'd like to see Arthur Adams do a pin-up cover for the Pacific Rim prequel, no artists have been chosen for the graphic novel.
About the discussion to make the comic a prequel rather than a straight adaptation:
GDT: The idea was to set up the creation of the world that is in "Pacific Rim," sort of give the stories and the drama and the science that occurs after the first kaijumakes land in 2013, and what happens when that occurrence is repeated over and over again until we realize that it's not a single occurrence or a series of occurrences, but a full-on invasion. And that we are going to need to [create] a weapon to deal with a creature that is that big and is not going in a straight line or a diagonal — hitting a target that is a living organism of a scale that has never been seen on Earth. We need to create an equally inventive way to grapple with the creature before it gets more inland. The ingenuity of the creation of Jaegers — the gigantic machines — that are pilot-controlled; the reaction of the kaiju attack; the creation of the academy; the first generation of Jaeger pilots that come out … all of that is set up in the movie, but is not expanded upon. The graphic novel will do that and more.
About plans to possibly continue the comic after the movie:
I think so 100%. It's worth it from the creative point of view. We are not doing just a spinoff, it's not an ancillary market decision to go to the comic. I created one that allows us to set up and expand and explore things that are spoken of in the movies, but this is another kind of creative important endeavor. One of the things that we did in the movie that I intend to continue/create in the comic book was to convey that this is a real world with real mechanics and real people fixing valves and machines. It's a livelihood. And hopefully in the comic we can give the fans that set world that's not changing from panel to panel or from page to page or from issue to issue that you really feel the day-to-day minutiae of what it means to be a mechanic or a pilot or a commanding officer in this world. That would be my most cherished hope.
The next kaiju movie under Hollywood consideration is apparently Enormous, written by Tim Daniel and drawn by Mehdi Chaggour. Norwegian director Andre Ovredal, who helmed horror faux-documentary Trollhunter is on board with producer Adrian Askarieh (Hitman).
The Image Comics published Enormous one-shot was released this July and is currently available digitally on Comixology:
In the midst of a planetary battle for food and fuel, a vast ecological cataclysm spawns THE ENORMOUS, massive beasts unlike anything ever witnessed. Humankind struggles to stave off extinction and the only law is to hunt or be hunted. It's an epic action adventure featuring the survival of the biggest!
The property is moving to a new publisher, 21 Ink Publishing, which is expected to announce an 18-book release, starting in 2013, at New York Comic-Con. The concept of the movie has been compared to Cloverfield and The Walking Dead, with the focus directed toward the characters, having rampaging monsters being relegated to the background.
via Hero Complex and Collider
------
Scott Green is editor and reporter for anime and manga at geek entertainment site Ain't It Cool News. Follow him on Twitter at @aicnanime.