Coming in 2013 with a new story by series writer Gen Urobuchi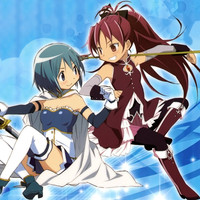 According to buzz from fans who have seen the second of the two films that comprise the events of the TV anime, the third Puella Magi Madoka Magica movie will carry the subtitle Hangyaku no Monogatari (something like "A Tale of Rebellion" or possibly "A Tale of Treason") and be released next year.
A placard tells movie-goers not to miss an announcement about the new movie after the end credits:
Fans tweeting about the news:
The question is, who rebels? Feel free to leave your speculation in the comments!
via Hachima Kikou
Previously on Crunchyroll News: "Puella Magi Madoka Magica" Movie 3 is Screenplay Complete