Every Wednesday at 10:30 a.m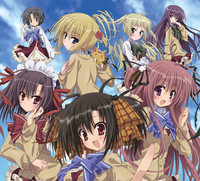 Make way! Make way! The new announcements at Crunchyroll for streaming anime titles continues with the addition of Ebiten, based on the manga by Kira Inugami and Sukaji!
While the launch date is still forthcoming, Ebiten is set to broadcast every Wednesday at 10:30 a.m. Pacific Time for its premium members, with its free members able to view one week after initial Crunchyroll broadcast.
Story:
A school club anime full of dreams and populated by nothing but cute girls. It won't grant any wishes, though! The same staff who brought you Sengoku Otome: Momoiro Paradox and Sora no Otoshimono hope you're ready for this high-energy club comedy!
Ebiten will be available to Crunchyroll's audience in the following territories: USA, Canada, and South Africa.
-------
Patrick Macias is editor in chief of Crunchyroll News. He also runs the Japanese Fashion Inferno tumblr blog. Follow him on twitter at @Patrick_Macias.