Anime adaptation to be a more liberal adaptation of manga according to director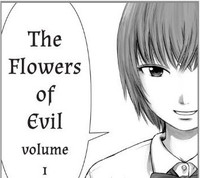 The news from Granada, Spain's FicZone convention doesn't stop, as Spanish anime site Deculture sat down with anime director Hiroshi Nagahama to talk about the director's past and future projects. During the interview, the site was able to confirm some new information regarding the forthcoming anime adaptation of the Aku no Hana manga, currently published in the US as The Flowers of Evil by Vertical Inc.
According to the director, animation studio ZEXCS of Sister Princess fame will be handling the animation production while the adaptation will be more liberal than what the director normally works on for anime adaptations of manga, having a preference for faithful adaptations to the source material. Nagahama went on to specify that the character designs will deliberately stray from the manga's character designs, as an example of the changes that will be made for the anime adaptation.
Lastly, the director also confirmed that the adaptation is in the last stages of being officially confirmed, with one more contract needing to be signed before work can officially begin.
Now that we know more of how The Flowers of Evil will be handled for its transition to anime, anyone excited to see how it will turn out? As someone that's currently reading the manga, I highly recommend it, especially if you enjoy darker manga series.
Correction: The article has been corrected after Deculture clarified a line which translated to "his last project as director" and was clarified to mean "his most recent work as director".
Images: Hiroshi Nagahama ©Deculture / The Flowers of Evil Volume 1 ©Vertical Inc./ Shuzo Oshimi
---
Humberto Saabedra is the Editor-in-Chief of AnimeNews.biz, PhoneNews.com and an occasional columnist for Ani.me. He can also be found musing on his favorite 2D girls at @AnimeNewsdotbiz.