Kisarazu Aviation Festival 2012 includes "ita-helicopter"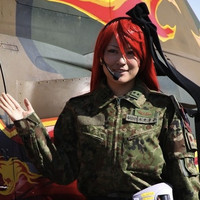 Kisarazu Aviation Festival 2012 was held at the Kisarazu garrison of the Ground Self-Defense Forces in Chiba prefecture this weekend. An anime mascot girl called Akane Kisarazu was not only painted on one of their helicopters, but cosplayed as well:
The YouTube description says Akane is a 23-year-old combat pilot and claims her "three-sizes" are a national secret.
Here's some more general footage taken at the event:
And here is the ita-copter (sounds better, right?) from last year:
Which one do you prefer? I think the jaws on this one are a nice touch.
via Hachima Kikou