He stabbed the teacher more than ten times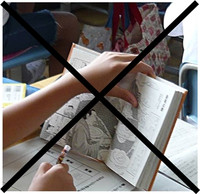 On October 15th, the Gamagori station of Aichi Prefectural Police arrested a 14-year-old male junior high school student, whose name has been withheld because he was a minor, for allegedly stabbing a 30-year-old female teacher with a ballpoint pen after she confiscated his manga in class.
According to the police, the teacher repeatedly warned the student who was reading manga during her class around 00:30 pm on October 1st, but the student didn't stop reading. Finally, she confiscated the manga from him. He suddenly became frenzied and shouted, "Give it back to me!" Then he stabbed her shoulder more than ten times with a ballpoint pen he took from the teacher's desk. The teacher had an injury which would take one week to heal completely. After the arrest, the student reflected on himself saying, "I am sorry."
No mention in the reports what manga title he was reading in the classroom.
Source: Chunichi Shimbun, TV Asahi