All-star music video headed by HYDE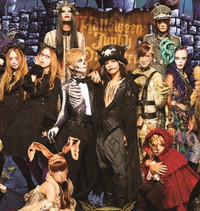 The Halloween Junky Orchestra is a spooky all-star musical project monster mash spearheaded by HYDE (Vamps) that includes musical and on-camera contributions from the likes of Acid Black Cherry, DAIGO (BREAKERZ), kyo (D'ERLANGER), Tommy february6/Tommy heavenly6, Tatsurou (MUCC), Tsuchiya Anna, Aoki Ryuuji, K.A.Z (VAMPS), Hitsugi (Nightmare), Aki (SID), RINA (SCANDAL) and Wakeshima Kanon.
And in a year already filled to the brim with stunning entries in an All Hallows' Eve themed music videos sweepstakes (with contenders including Kyary Pamyu Pamyu, Aural Vampire, and Tommy February / heavenly), this creepy "We Are the World"-esque clip now threatens to RULE THEM ALL with some of the best spooky costuming and art direction to come along in many a moon.
Behold... "Halloween Party" performed by the Halloween Junky Orchestra!
Bonus round! The Who's Who of The Halloween Junky Orchestra!
HYDE
tommy heavenly / february6
Aki (SID)
Anna Tsuchiya
Tatsuro (MUCC)
Kanon Wakeshima
Hitsugi (Nightmare)
Daigo (BREAKERZ)
Aoki Ryuuji
RINA (SCANDAL)
Acid Black Cherry
K.A.Z (VAMPS)
kyo (D'ERLANGER)
-------
Patrick Macias is editor in chief of Crunchyroll News. He also runs the Japanese Fashion Inferno tumblr blog. Follow him on twitter at @Patrick_Macias.