Based on the manga by CLAMP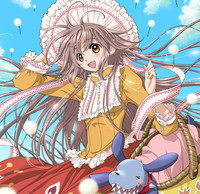 Crunchyroll's growing back catalog of anime series has a new title to reckon with as Kobato joins the roster. Premium users will get all episodes as they become available, while free users will get 4 new episodes a week until the series completion. Kobato will be limited to the US and Canada.
Based on the 2005-2011 manga by superstar creator team CLAMP (Cardcaptor Sakura, X), this anime adaptation by studio MADHOUSE (Redline, Trigun) ran on Japanese TV from 2009 to 2010 and was directed by Mitsuyuki Masuhara (Chi's Sweet Home). The voice of Kobato herself is provided by Kana Hanazawa, voice actress familiar to millions from Angel Beats! and Bakemonogatari.
Official synopsis...
To ease all the pain and suffering in this world is no simple task, but young Kobato earnestly believes that she has the talent and ability to do just that! However, the half- human creature known as Ioryogi doubts whether the strange girl with the mysterious past is truly ready to receive the mystical flask Kobato needs to achieve her goal, a special bottle gifted with the ability to capture the pain and sorrow of a broken heart once it's been healed! However, as there's really only one way to find out if Kobato truly deserves the right to use the flask, Ioryogi decides to send Kobato on her first assignment! Will Kobato pass the test? From the magical pages of the original manga by famed creators Clamp, the most heartwarming heroine ever is born in Kobato!
-------
Patrick Macias is editor in chief of Crunchyroll News. He also runs the Japanese Fashion Inferno tumblr blog. Follow him on twitter at @Patrick_Macias.