On sale October 26th in Japan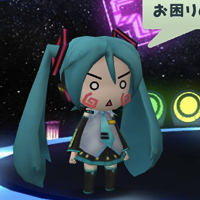 The fifth in a recent string of Hatsune Miku Project Diva f collaborations tying pretty Vocaloid bows around Minna to Issho on PlayStation Vita in Japan got a promo video today. First came name cards and costume items based on Miku, Luka, Rin, Len, Kaito, and Meiko; now, a dungeon to explore with "Hachune" Miku.
The Minna to Issho dungeon adventure goes on sale October 26th for 1200 yen (about US $15.13).
The crossover continues this winter in the other direction when Toro and Kuro items go on sale in Project DIVA f, which came out August 30th for Vita in Japan.