In a world abandoned by god, the dead don't die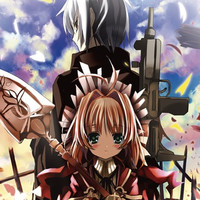 Fantasy light novel series Kami-sama no Inai Nichiyoubi (something like "A Sunday Without God") has been greenlit as an anime. The award winning books (seven so far) are written by Kimihito Irie and illustrated by Shino. Here's a promo video for the books (not the anime) to get a feel for the mood:
The YouTube description: "A boy who hunts the deceased, a girl who protects them. The meeting between this two will change their fate..."
The story takes place 15 years after the world has been abandoned by god. No more humans are born, and nobody dies, so the only way someone whose time has come can get some peace is via a Gravekeeper. A 12-year-old half-Gravekeeper, half-human girl named Ai is learning the trade when a boy called Hanpunii Hanbaado ("Humpney Humbard?" This name is anyone's guess!) arrives in her village. He's hunting the not-quite-dead dead even though he can't kill them himself (since he's not a Gravekeeper), but what is the unexpected truth he'll reveal to Ai?
"To save the ending world—Gravekeeper Ai's tale"
The series won first prize in its publisher Fujimo Shobo's fantasy novel contest in 2010 under the previous title of Nichiyou no Hito-tachi ("Sunday People"). The third volume of Heiki Abara's manga adaptation goes on sale November 9th and a drama CD has also been produced.
The story seems kind of interesting, maybe a little dark. Will you keep an eye on this one?