Pus 1/8th Scale Guilty Crown Inori Yuzuriha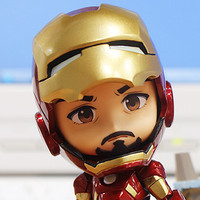 With the figure available for pre-order now ahead of a February release, Good Smile Company has previewed the super deformed Nendoroid Iron Man Mark 7: Hero's Edition. Their Mika-tan blog also offered an indepth look at the currently available 1/8th scale Guilty Crown Inori Yuzuriha.
The Nendoroid Iron Man Mark 7: Hero's Edition ... with Mika-tan commentary...
The red lines and text are all corrections!
The production team is generally the group that applies all these changes to the figure (or the manufacturing team in the case of mass production), but sometimes just like this, the planning head of the project will fix up some of the problems himself!
A file showing all the areas that need to be improved is drawn up, and slowly but surely the corrections are applied to improve the overall quality of the figure. Once all of the corrections are done, the unpainted prototype that you can see at the bottom left of this photo is created!
From 'The Avengers':
Nendoroid Iron Man Mark 7:
Hero's Edition
From the worldwide hit film 'The Avengers' comes a fully articulated Nendoroid of Iron Man – the hero that industrialist billionaire Tony Stark becomes whenever he puts on his powerful armored suit. A number of booster effect parts are also included to easily pose him in combat or flying poses!!
The second Nendoroid from American films, following on from Nendoroid Spider-Man: Hero's Edition!
I never thought we'd see such world famous heroes like these joining the Nendoroid series!
This is how he looks from the back!
Just like with Spider-Man, he also comes with a dioramic stand to display him flying above the city! You can even see the Stark Tower in the tiny little city!
The standard Nendoroid stand is also included, so you have the choice as to how you'd like to display him!
Posed with his arm thrusted out!
This is a pose that many Iron Man fans will be familiar with! He even comes with the opened out hand to complete the pose completely! Eno-kun was the leader of this project, and he insisted that this pose had to be included!
Pose him flying with effect parts!
He comes with jet effect parts for both of his hands, both his legs and even his back! There are also plans to include a special attachment to the arm of the stand that'll allow you to support him nicely by his stomach for poses like this one!
You can even pose him in combat poses!
These jets used to fight his enemies are different to the ones that he uses to fly – when he is flying the jets are parallel to his the jets on his feet, but when he's fighting with his arms out like this they're parallel to the ground.
It's amazing how cute the Nendoroid looks even though you can still place him in such cool looking poses!
The Edition series is fully articulated!
Whenever the name of the product has 'Edition' in it, you can assume that the figure is fully articulated and can be posed in an unbelievable number of ways!
Personally I love having the shoulders and knees as posable as they are on the edition Nendoroids – it really makes posing so much easier!
His mask can be opened and closed!
More than anything Tony Stark's face is amazing! But the fact that you have the option to open up the mask is also great!
How exactly this is going to be implemented in mass production is still under consideration, but no matter how it comes out, I'm sure the fans will be pleased to have this option!
You can even switch expressions!
I think I might get into trouble if I play around with this too much… in fact I'll probably get into trouble doing it with even this one expression.
But it seems you can have your favorite characters try out the Iron Man suit!
These were the corrections at the start!
I think I might get into trouble if I show too much of these… in fact I'll probably get into trouble showing just this image… but I decided they should be shown to the blog readers as a special feature!
As you might imagine, it's actually much harder to change characters like Spider-Man or Iron Man into Nendoroids compared to the normal anime characters. There were actually lots of other corrections besides the ones you see here – most of the changes are to make it keep to the Nendoroid design without breaking the balance of how the character should look. Iron Man had a huge number of changes that went on for a really long time before he was ready for release.
These corrections are for the joints!
These were written up by Takanon, the head of production for the project. Iron Man is a fully articulated Nendoroid, so there had to be a number of corrections for both the apperance and the posability of the Nendoroid.
Certainly not an easy thing to balance out, but it seems like the team did a great job in the end!! (`・ω・´)
They also showed off the 1/8th Scale Guilty Crown Inori Yuzuriha, already in stores.
With Mika-tan commentary
From Guilty Crown:
1/8th Scale Inori Yuzuriha!
From the anime series "Guilty Crown" comes a 1/8th scale of the Undertaker's member, EGOIST's vocalist and heroine of the series – Inori Yuzuriha. The figure is based on an illustration by the original character designer of the series, redjuice. She is posed with an innocent expression on her face and great care has been put into sculpting her beautiful body-line and delicate appearance.
There is so much I want to say, but let me have the photos speak a bit for themselves first! (`・ω・´)
This is how she looks from the back!
With autumn here, the coloring of her outfit seems to match the season perfectly! It's the exact same beautiful colors as the autumn leaves! The gradient is also absolutely stunning, but I'll look into that with more detail a little bit later.
Personally I really like the parting in her hair as well – its simplistic, but still looks great! (・∀・)
Her expression is lovely!
This image is magnified quite a lot, but even zoomed in this far she still looks beautiful! The airy, transparent atmosphere that accompanies Inori is really notable on the figure!
I also love the way her lips are ever so slightly opened!! (*゜∀゜)=3
So sexy!!
You need to look over that photo a couple of times first, then read on!
Those curves are truly magnificent… I honestly think this is even more erotic than if she were completely naked…
I don't really think I need to go into more detail, but the way her breasts are kind of sticking out as well as the area beneath the navel that cuts it quite close are my favorite parts of the figure. I get the feeling that you really need to experience her in person to really understand just how amazing she looks!
Lovely inner thighs!!
I'm sure that many people would rather be commenting on her bottom with a picture like this, but personally I'm definitely a thigh person!
If we look at an example of a girl wearing a skirt, you can pretty much always make out a girl's hip-line, but you normally never get to see the inner thighs at all – that's just what makes these thighs so special to me!
Plus they look so smooth and soft!! (゚∞゚)
Anyway, what I'm trying to say is that people should pay more attention to the thighs, particularly when there are knee socks involved!
A truly stunning gradient!
All-in-all, I think most fans would agree that the biggest highlight of Inori is the amazing 'Goldfish Outfit'! The outfit is separated into a number of different parts, and is actually painted over a number of different coatings for each color – a separate process for each of the white, yellow, orange and red colors.
The front and back of each pat have different coloring, so each part would need to go through at least eight different painting processes!
Absolutely amazing! That doesn't even count in all the stamp painting that would need to go afterwards for the black diamonds and other shapes on her outfit… you can even see there is a gradient on smaller areas like the orange on her thighs or the flaps around her hips!
It may take a long time to get the coloring done in a case like this, but I think it's definitely worth the effort is it comes out this beautifully!
My favorite shot from today's pictures!
The dynamic pose really makes it look like she is about to run off somewhere… I think this angle really captures her cuter side! (´∀`)
I'm really not the best photographer, but when it comes to figures it's all about the love of the figure! She's finally here, so I had to try take the cutest picture I could!
------
Scott Green is editor and reporter for anime and manga at geek entertainment site Ain't It Cool News. Follow him on Twitter at @aicnanime.