Confirmation of second season made during Dengeki 20th Anniversary event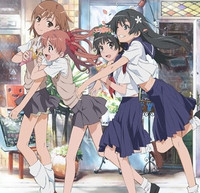 For those of you that are fond of the Railgun franchise, your prayers for a second season have been answered, as the confirmation of a second season of A Certain Scientific Railgun has been announced during the same Dengeki 20th Anniversary event and currently under production under the title A Certain Scientific Railgun S,with cast and staff information to be confirmed in the forthcoming December issue of Monthly Comic Dengeki Daioh, on sale in Japan this week.
Closer to home in the US, Funimation currently holds the rights to A Certain Magical Index as well as the first season of A Certain Scientific Railgun, but the low priority the company has placed on the license compared to its other acquisitions and licenses has led to it being lamented and ignored by many dedicated fans of the franchise for its poor treatment by the publisher in terms of the home video and streaming releases.
That said, anyone besides myself excited for more Railgun? Here's hoping we get to see more "Taiga" cameos.
---
Humberto Saabedra is the Editor-in-Chief of AnimeNews.biz, PhoneNews.com and an occasional columnist for Ani.me. He can also be found musing on his favorite 2D girls at @AnimeNewsdotbiz.