"Go Furby Go" by mishmash*Julie Watai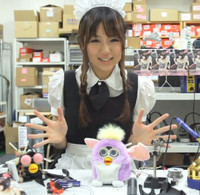 I've been giving this a lot of thought and have come to the conclusion that Julie Watai is the coolest, most well-connected female otaku in all of Japan.
From her Hardware Girls photo sessions, to her stints as a gravure model and her sessions as a club DJ and remix artist, Julie continually and nimbly crosses the lines between super nerdy and somethin' else.
Lately, she's been busy with mishmash*Julie Watai, a musical collaboration with T. Mishima, long associate of Japanese indie music tiki head Cornelius.
Oh...one more thing about Julie…SHE ALSO HACKS FURBYS!!
All of which leads us to mishmash*Julie Watai's latest song, "Go Furby Go"; an ode to the toy that Julie loves to "circuit bend" when dressed as a maid.
And while Momoiro Clover Z has been assigned the duty of delivering the official Furby 2012 endorsement deal via their new commercials, Julie and co. have a furry saga of their own to unfold before your eyes below...
The full length version of "Go Furby Go" will be available on October 26th from iTunes, Amazon, and Google play.
-------
Patrick Macias is editor in chief of Crunchyroll News. He also runs the Japanese Fashion Inferno tumblr blog. Follow him on twitter at @Patrick_Macias.