New stretch goals listed 6 days ahead of completion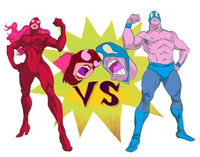 Production IG's experiment with crowdfunding in "Kick-Heart" supervised and written by one of my most favorite directors in Masaki Yuasa has hit its initial funding goal after a slow start earlier this month when it first launched.
Thanks to the concerted efforts of the online anime community and press, the project has proven that crowdfunding can indeed work for small-scale projects like these. I'll admit I had my doubts like anyone else regarding the viability of the project, owing to Yuasa's polarizing style, a style that sees him deliberately avoid conventional Japanese animation styles in order to tell layered, thoughtful stories.
However, that's not all that's in play regarding the Kickstarter project. Now, Production IG have added additional stretch goals for the project with six days to go:
175k = Spanish Subtitles
200k = English Dub, Premier Screening and Party (details TBA)
225k = 3-5 minute animated Oorutaichi music video directed by Masaaki Yuasa
400k = +30 minutes of extended animation (total length 40 minutes)
1 Million = Kick-heart Feature Film
Now that I've seen that I'm not the only one that wants this to succeed, I'll be throwing my own contribution into the ring, so to speak. Being the massive Yuasa fanboy that I am, I wish I could swing the $10,000 pledge for the full experience.
Anyone else looking forward to the short or planning to pledge to help reach the new stretch goals?
---
Humberto Saabedra is the Editor-in-Chief of AnimeNews.biz, PhoneNews.com and an occasional columnist for Ani.me. He can also be found musing on his favorite 2D girls at @AnimeNewsdotbiz.