Spice and Wolf meets Dragon Quest meets Queen's Blade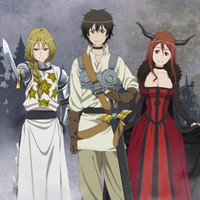 January's Maoyuu Maou Yuusha (Demon Queen and Hero) anime should be an interesting experiment. It takes a didactic fantasy light novel series, often compared to Spice and Wolf; reunites S&W's director, writer and principal cast, and brings it to an anime studio known for fanservice filled works like Queen's Blade: Rebellion.
For a clue as to how this might turn out, the series' site has the latest visuals...
Ami Koshimizu (Spice and Wolf's Holo) is the Demon Queen, while Jun Fukuyama (Kraft Lawrence, Yukio Okumura from Blue Exorcist, Souta Takanashi from Wagnaria!!) plays the Hero, with Miyuki Sawashiro's (Kurapika in Hunter x Hunter, Suruga Kanbaru in Nisemonogatari) - Woman Knight.
Chiwa Saito (Madoka Magica's Homura) - Senior Maid
Haruka Tomatsu (Ichika Takatsuki in Ano Natsu de Matteru, Mashu in C) - Older Sister Maid
Nao Toyama (Horizon in the Middle of Nowhere's Margot Knight, Star Driver's Tiger Sugatame) - Younger Sister Maid
Cast also includes Hiroshi Kamiya (Blue Exorcist's Mephisto Pheles, Natsume Yūjin-chō San's Takashi Natsume ) as Young Merchant.
Credits includes:
Director: Takeo Takahashi (Spice and Wolf)
Series composition: Naruhisa Arakawa (Spice and Wolf)
Character design: Masashi Kudo (Bleach), Hiroaki Karasu
Chief animation director: Hiroaki Karasu (Dog Days')
Assistant Director: Sei Sanpei
Art Director: Toshihiro Kohama (Spice and Wolf)
Art setting: Kaoru Aoki (Jorgmungand, Level E)
Color Design: Hitomi Sano (Spice and Wolf)
Music: Takeshi Hama (Kobato)
Production: ARMS (Queen's Blade: Rebellion, most of IkkiTousen)
Originally a story posted on message board 2Ch, the serial by Touno Mamare has already inspired five manga adaptations. The anime is slated to premiere this winter.
-------
Scott Green is editor and reporter for anime and manga at geek entertainment site Ain't It Cool News. Follow him on Twitter at @aicnanime.