5th crossover movie featuring all PreCure characters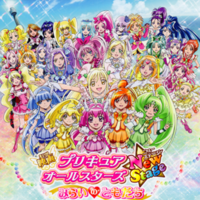 Today (October 27th) is the opening day for the 13th and newest PreCure film Smile PreCure!: Ehon no Naka wa Minna Chiguhagu! (Big Mismatch in a Picture Book!) in Japan. As a fan of the series, of course I went to the nearest cinema complex in my city to see the first screening started at 10:00 am. As expected, there was an announcement for the next PreCure film in the end of the Smile PreCure film. The new film PreCure All Stars New Stage 2 (tentative title) will open in Japan on March 16th, 2013. Also as expected, no details about the story was told.
The last All Stars film, PreCure All Stars New Stage: Mirai no Tomodachi (Friends of the Future) was released in Japan on March 17th, 2012 and earned impressive one billion and 10 million yen (about US$12,680,000.) The film had 28 PreCure girls (including Shiny Luminous and Milky Rose) from all of the series, but due to the sheer number of characters, every girls from before Fresh PreCure!
had no speaking lines in the film at all. That was the biggest disappointment among the fans. I saw
all of the girls in the preview using the footage from the past films, but it is sure that more girls will have
no dialog in the actual film.
"Code Geass: Akito the Exiled" and "Resident Evil: Damnation" are also showing at the cinema complex
"Evangelion 3.0: You Can (Not) Redo" is coming next month
A big panel of the Smile PreCure film
"Smile PreCure!: Ehon no Naka wa Minna Chiguhagu!" trailer
"PreCure All Stars New Stage: Mirai no Tomodachi" trailer
Image © 2012 Eiga PreCure All Stars NS Production Committee