The second highest cultural honor in Japan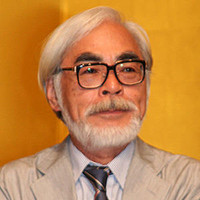 Today the Japanese government announced the recipients of the Order of Culture and Persons of Cultural Merit for this year. 71-year-old renowned anime director Hayao Miyazaki (My Neighbor Totoro, Spirited Away, Ponyo) is among 15 people honored as Persons of Cultural Merit.
The Person of Cultural Merit Award is the second highest cultural honor in Japan (the highest is the Order of Culture) and is awarded annually to select people have made notable achievements related to the development or refinement of culture. Miyazaki is the first anime director who receives the award. GeGeGe no Kitaro manga creator Shigeru Mizuki also received the award in 2010. The award ceremony will be held at Hotel Okura Tokyo on November 5th. Congratulations, Miyazaki-san! So, what is your most favorite Miyazaki film?
"Laputa: the Castle in the Sky" Japanese trailer
"My Neighbor Totoro" English trailer
"Spirited Away" Japanese trailer
Source: Yomiuri