Now 33 Kuroko's Basketball-related places received threat letters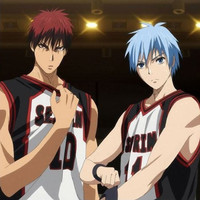 NHK, Japan's national public TV station reported this morning that the Metropolitan Police Department found out a security camera on campus of Sophia University caught a suspicious person on October 12th. The university received one of the Kuroko's Basketball threat letters and the liquid could produce a lethal dose of hydrogen sulfide on that day.
The letter that said, "The creator took everything from me," was found on the stairway to the gym of the university a little past 7:00 pm on October 12th. Before the time, a camera on campus caught a suspicious person with a valise wearing a hat and a mask to hide the face. The police believes the person is involved in the crime and is trying to find it out by analyzing the video.
As of November 3rd, 33 places related to Kuroko's Basketball manga and anime, and the manga
creator Tadatoshi Fujimaki have received threat letters with powder or liquid substances since
October 12th. 26 of them were sent to the places in Tokyo and 7 were to other prefectures in Japan.
According to the postmarks, the letters were posted in Tokyo or Osaka.
Source: NHK
Related articles:
Kuroko's Basketball Author Threatened with Letters, Powder, Liquid
4th Threatening Letter Sent to Kuroko's Basketball Doujinshi Event
Radio Station Also Receives Kuroko's Basketball-Related Threat Letter
Threat Letter Sent to TV Station that Broadcasted "Kuroko's Basketball" Anime
image © Tadatoshi Fujimaki/Shueisha/Kuroko's Basketball Production Committee