Currently streaming titles slated for home video release along with new licensing possibilities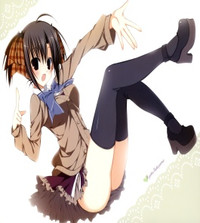 Sentai Filmworks took to its panel during the NekoCon convention to detail its future release plans for next year and has confirmed the following titles, which are currently streaming, will be released on home video:
Ebiten
The Pet Girl of Sakurasou
Say, "I Love You"
The following titles will be getting an English dub when released on home video next year, which includes Blu-Ray:
Battle Girls: Time Paradox

Kamisama Dolls
The following titles will be released on sub-only DVD with a preliminary release planned for next February:
Listen to Me, Girls I am your father!

Waiting in the Summer (Ano Natsu de Matteru)
Anyone waiting on any of the titles to go up for pre-order? Kinda bummed that AnoNatsu is only getting a DVD release, though.
In releated news, some interesting info to chew on was revealed during the panel:
Sentai Filmworks is looking at Carnival Phantasm and The World God Only Knows OVAs for future licensing. According to the company, The World God Only Knows is selling well.
There are no plans at time to go back and dub any past subbed only releases. The company previously revisited select series with new English dubs after sales for them were higher than expected, with Clannad being the most well-known example of the practice.
Voice actor Steven Blum has contacted Sentai Filmworks about doing work on sleeper hit Kids on the Slope, although nothing is set in stone regarding activity.