Tony Harris rant blasts "whole COSPLAY-Chiks" scene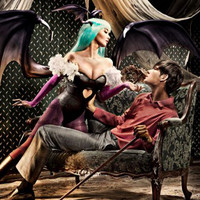 There's a notion that some people participate in geek media or events with the aims of gaining fame and attention. Between fan passion and accusations of ulterior motives, geek authenticity has been an explosive subject lately. Well, Eisner Award-nominated American comic artist Tony Harris really leapt into that minefield this week with his comments about cosplayers.
In addition to commenting on the feminist implications, the illustrator on widely praised works such as Ex Machina and Star Man called out cosplayers for stealing convention goers' attention for themselves, that otherwise may have been paid to artists and writers.
The Facebook rant that set off controversy stated:
I cant remember if Ive said this before, but Im gonna say it anyway. I dont give a crap.I appreciate a pretty Gal as much as the next Hetero Male. Sometimes I even go in for some racy type stuff ( keeping the comments PG for my Ladies sake) but dammit, dammit, dammit I am so sick and tired of the whole COSPLAY-Chiks. I know a few who are actually pretty cool-and BIG Shocker, love and read Comics.So as in all things, they are the exception to the rule. Heres the statement I wanna make, based on THE RULE: "Hey! Quasi-Pretty-NOT-Hot-Girl, you are more pathetic than the REAL Nerds, who YOU secretly think are REALLY PATHETIC. But we are onto you. Some of us are aware that you are ever so average on an everyday basis. But you have a couple of things going your way. You are willing to become almost completely Naked in public, and yer either skinny( Well, some or most of you, THINK you are ) or you have Big Boobies. Notice I didnt say GREAT Boobies? You are what I refer to as "CON-HOT". Well not by my estimation, but according to a LOT of average Comic Book Fans who either RARELY speak to, or NEVER speak to girls. Some Virgins, ALL unconfident when it comes to girls, and the ONE thing they all have in common? The are being preyed on by YOU. You have this really awful need for attention, for people to tell you your pretty, or Hot, and the thought of guys pleasuring themselves to the memory of you hanging on them with your glossy open lips, promising them the Moon and the Stars of pleasure, just makes your head vibrate. After many years of watching this shit go down every 3 seconds around or in front of my booth or table at ANY given Con in the country, I put this together. Well not just me. We are LEGION. And here it is, THE REASON WHY ALL THAT, sickens us: BECAUSE YOU DONT KNOW SHIT ABOUT COMICS, BEYOND WHATEVER GOOGLE IMAGE SEARCH YOU DID TO GET REF ON THE MOST MAINSTREAM CHARACTER WITH THE MOST REVEALING COSTUME EVER. And also, if ANY of these guys that you hang on tried to talk to you out of that Con? You wouldnt give them the fucking time of day. Shut up you damned liar, no you would not. Lying, Liar Face. Yer not Comics. Your just the thing that all the Comic Book, AND mainstream press flock to at Cons. And the real reason for the Con, and the damned costumes yer parading around in? That would be Comic Book Artists, and Comic Book Writers who make all that shit up.
Needless to say, the sentiment wasn't well received. Particularly vocal critic Gail Simone (writer on Birds of Prey, Secret Six, Deadpool) called for a Cosplay Appreciation Day to refute the opinion.
------
Scott Green is editor and reporter for anime and manga at geek entertainment site Ain't It Cool News. Follow him on Twitter at @aicnanime.