"Rough and Laugh" by Clammbon remade by livetune band member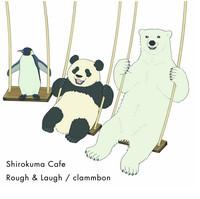 "Rough & Laugh" the 2nd opening theme to the sleeper hit anime Polar Bear's Cafe performed by Clammbon, has just gotten a cool remix by kz of the band livetune, best known for their work on the massive Hatsune Miku hit "Tell Your World".
And while I wish the video featured some of the characters from the show itself, the trippy animated visuals here -- provided by creative team TYMOTE -- make this a pretty groovy experience in of itself. Enjoy!
BONUS: Here's the sleeve art for the CD of "Rough and Laugh", which goes on sale in Japan on 11/21.
-------
Patrick Macias is the editor in chief of Crunchyroll News. He also runs the Japanese Fashion Inferno tumblr blog. Follow him on twitter at @Patrick_Macias.