US$13.9 million weekend gross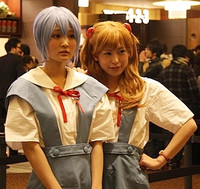 Hey, this is Patrick reporting from Tokyo where pretty much the only thing that happened over this weekend was the opening of the new film Evangelion: 3.0 You Can (Not) Redo.
Even Hollywood entertainment bible Variety has taken note, and has reported that Shinji, Asuka, Rei and co. have just sold tickets to the tune of US$13.9 million bucks, making this the biggest opening weekend of any movie this year in Japan.
Outside the Shinjuku Wald 9 theater...
Part of that success is owing to the fact that the film was seemingly playing everywhere (224 screens in all) and even took over all nine screens at the Shinjuku Wald 9 theater with shows starting at 6am on opening day.
Unreported in the Variety article is the "repeat viewing" effect, where wild Eva fans would exit the theater only to turn around and march right back in to watch it over again to try and figure out what the heck they had just seen.
And inside...
Me being me, I also plunked down my hard earned yen on Saturday to get a gander at what Japanese fans are calling "Eva Q". While Crunchyroll News will be publishing a full review shortly, here's my first impressions via my tweet
Eva Q: great animation, mech design & surreal atmosphere. Wish there were some new character arcs or dynamics though. Shinji & co. are going in circles now.
Other fan reactions are ranging from "WTF" to "Nani kore?" ("What is this?"). While it's not a bad movie, it's certainly not a conventional one either. The fact that it is likely to out-perform the previous two Rebuild of Evangelion films is kind of remarkable in that respect.
Anyway, I hope you guys all get a chance to see it sooooooooon!
-------
Patrick Macias is the editor in chief of Crunchyroll News. He also runs the Japanese Fashion Inferno tumblr blog. Follow him on twitter at @Patrick_Macias.