Launches tonight at 5pm Pacific Time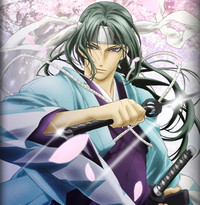 More back catalog action on Crunchyroll following last month's additions, as your favorite anime streaming site has added the first season of the Hakuoki anime series in Demon of the Fleeting Blossom.
The series starts streaming tonight with the complete first season available to All-Access/Anime Members, while Free Members will have 3 episodes a week available to watch each week. The series will be limited to members in the US and Canada.
Here's how Sentai Filmworks describes the show:
Disguised as a man, Chizuru Yukimura has come to Kyoto searching for her missing father, a doctor who developed a magical elixir that increases the drinker's speed, strength and healing abilities. Instead of her father, however, she stumbles across a battle between the Shinsengumi and the Furies, evil vampire-like creatures of their own making. As things turn out, the Shinsengumi are also searching for her father. And when they discover who she is, they decide to take her into their custody for safe-keeping. But her sex is not the only secret Chizuru has, and as more and more Furies begin appearing in Kyoto and the situation becomes ever deadlier, the Shinsengumi may find that the Furies are the least of their problems in Hakuoki!
Who's excited for the first season of Hakuoki finally making it onto Crunchyroll?