La segunda temporada del club de la gente que no tiene amigos.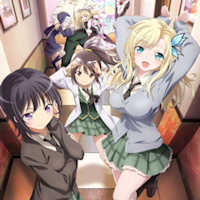 La segunda temporada de Haganai, Boku wa Tomodachi ga Sukunai NEXT, se estrenará el día 11 de enero a la 1:55 en la cadena TBS, pasando a emitirse posteriormente en MBS y BS-TBS.
Tanto el opening como el ending serán de Rijinbu, un grupo formado por las seiyuus de la serie (Marina Inoue, Kanae Ito, Nozomi Yamamoto, Misato Fukuen y Kana Hanazawa), siendo el openingt "Be my Friend" y el ending "Bokura no Tsubasa" (Nuestras alas).
El single con ambos temas se lanzará a la venta el día 6 de febrero al precio de 1.260 yenes. El grupo ya había interpretado el opening de la primera temporada.
El director de esta temporada será Kitahata Toru, el que fue director asistente en la primera temporada y director de Koi to Senkyo to Chocolate. Sustituye así a Hisashi Saito, que fue director de la primera. Al contrario que en la primera temporada, Yomi Hirasaka, responsable de las novelas originales, se encargará personalmente de los guiones junto al guionista de la primera temporada, Tatsuhiko Urahata. Kurasumi Sunayama (Monster, Romeo X Juliet) se une también al equipo de guionistas.Taoshihiro Kohama (Saikano Spice and Wolf) sustituye a Yuka Hirama como director artístico.