From the LeetStreet Boys' second album, "Otaku Hearts"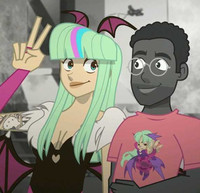 Confession: I never had a cosplay girlfriend. Back in them old days, before anime conventions took over the Earth, the best you could hope for was the bookish librarian type, or the art class type who tracked acrylic paint all over the place…but if I was lucky enough to have had a cosplay girlfriend, you can bet I would want to burst into song about it and sing her praises!
And by golly, that's what the LeetStreet Boys have done below, accompanied by an animated music video, no less!
"Cosplay Girlfriend" is featured on the LeetStreet Boys' 2nd album, "Otaku Hearts", available for purchase here.
-------
Patrick Macias is the editor in chief of Crunchyroll News. He also runs the Japanese Fashion Inferno tumblr blog. Follow him on twitter at @Patrick_Macias.