Fantasy josei slated for spring 2013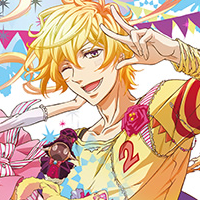 While josei manga for older, female audiences isn't always well represented in anime, we've been seeing a string of remarkable adaptations lately with works like Kids on the Slope and Natsuyuki Rendezvous. Next spring will see some fantasy josei with an adaptation of Touya Mikanagi's Karneval.
The story follows the journey of a boy called Nai who is looking for someone called Karoku with only a bracelet as a clue. Through a series of unfortunate events he winds up partnered with a thief called Gareki and they learn that the bracelet is actually an ID from the defense organization called "Circus."
Credits include:
Director: Eiji Suganuma (Sasameki Koto, Kodomo no Jikan)
Scenario : Tôko Machida (Saiyûki Gunlock, Saiyûki Reload)
Character Director : Toshie Kawamura (Smile Precure!)
Studio : Manglobe (Samurai Champloo, Hayate the Combat Butler: Can't Take My Eyes Of You)
with cast:
Nai - Hiro Shimono (The World Only God Knows' Keima Katsuragi)
Gareki - Hiroshi Kamiya (Durarara!'s Izaya Orihara)
Yogi - Mamoru Miyano (Hunter x Hunter's Chrollo Lucilfer)
Tsukumo - Aya Endo (Kids on the Slope's Yurika Fukahori)
Hirato - Daisuke Ono (Black Butler's Sebastian Michaelis, Saizō Kirigakure from Brave 10)
Jiki - Yūichi Nakamura (Gray Fullbuster from Fairy Tail, Sōshi Miketsukami from Inu x Boku SS).
Tsukitachi - Koji Yusa (Yoru no Ou from Kore wa Zombie Desu Ka?, Lunatic from Tiger & Bunny)
Akari - Daisuke Hirakawa (Hyakka Ryouran Samurai Girls' Yagyuu Muneakira)
-------
Scott Green is editor and reporter for anime and manga at geek entertainment site Ain't It Cool News. Follow him on Twitter at @aicnanime.