Finger lickin' good at 30,000 feet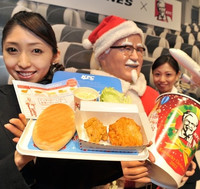 Sometimes when you are strapped to your seat at 30,000 feet, a little taste of something familiar can help make air travel less... distasteful? Maybe that's why, starting December 1, Japan Air Lines will be serving passengers some of the Colonel's famed finger lickin' good Kentucky Fried Chicken on select international flights.
If a picture is worth a thousand words, then we figure this snap from the JAL x KFC press conference is worth at least a value combo.
If you are flying to Japan from New York, San Diego, Chicago, Boston, Los Angeles, London, Frankfurt or Paris, relax: there's no need to pack your own 12-piece bucket (unless you really wanna pig out). "Air Kentucky" will hook you up with a drumstick, a chicken breast, super exclusive limited edition flat bread and some of that slaw all served in a collectable box suitable for framing.
PUT…YOUR…HAND…IN THE BOX!
Why KFC and why now? For inexplicable reasons, Kentucky Fried Chicken is widely associated with holidays in Japan, and Colonel Sanders himself is often mistaken for Santa Claus (dressing him up in a red and white suit may have something to do with that…).
Question: which one of these items is not Santa Claus?
But book your flights now for this special holiday treat! This offer is only good until February 28, after which JAL goes back to slinging out cold fish again and you'll have to smuggle your own greasy treats onboard.
-------
Patrick Macias is editor in chief of Crunchyroll News. He also runs the Japanese Fashion Inferno tumblr blog. Follow him on twitter at @Patrick_Macias.