The present from Barnaby for the fan of the series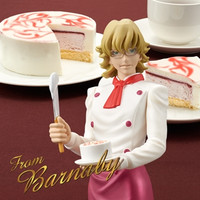 Following "Valentine Cake from Kotetsu", Premium Bandai, Bandai's official online shopping site, has began accepting pre-orders for the second special cake from the duo heroes, "Tiger & Bunny White Day Cake from Barnaby" in Japan today. The 12cm cake has a sponge base topped with strawberry mousse, gelatin cheese mousse, and raspberry source. It comes with a 14cm tall Barnaby figure in Pastry Chef costume.
Premium Bandai released one Valentine chocolate cake featuring Kotetsu and Barnaby together last time. But this year they offer separate cakes, the Valentine Day one by Kotetsu and the White Day one by Barnaby. Obviously, Barnaby has more female fans whom he has to send the cake back to in return. The price for the Kotetsu and Barnaby' cakes are both 3,990 yen (about US$48.58). Which cake do you want?
"Tiger & Bunny" White Day Cake from Barnaby
"Tiger & Bunny Valentine Day Cake from Kotetsu"
Last year's T&B Valentine cake
Source: Press Release
© SUNRISE/T&B PARTNERS, MBS